Forthcoming Events
Maha Shivaratri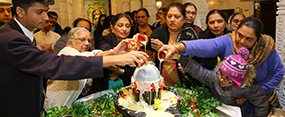 Monday 4 March 2019
International Women's Day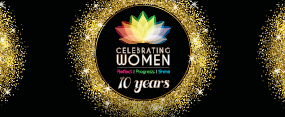 Sunday 10 March 2019
Holi Celebrations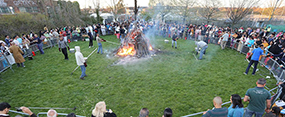 Wednesday 20 March 2019
News & Events
Public Health Screening at Local Shopping Centre
Saturday 23 April 2016
Volunteers from BAPS Shri Swaminarayan Mandir helped BAPS Charities to team up with representatives from the Rotary Club of Edgware & Stanmore to deliver a health awareness drive at the Broadwalk Shopping Centre on Saturday 23 April 2016.
During the five-hour session, 30 males and 33 females aged between 15 to 85 years, and from diverse ethnic groups, were offered free medical consultations. The experts helped raise awareness about potential health risks and encouraged to lead a healthier lifestyle.
Almost half of those surveyed recorded a body mass index (BMI) greater than 25 which classifies a person as overweight. 22% also suffered from clinically high blood pressure and the same proportion of people were confirmed as diabetics.
His Worshipful The Mayor of Harrow Cllr Krishna Suresh attended the event to observe first-hand the service being offered in the Borough. He was very appreciative of the voluntary work offered by BAPS Charities in the local community.
Members of the Rotary Club and their president, Dr Nandini Varma, were also grateful to BAPS Charities for providing a professional and friendly service throughout the day, and hoped to continue the partnership to benefit more people in the community that has been flourishing since 2011.
Dr Lalit Nirmal, a lead volunteer for BAPS Charities, spoke of the "positive community feedback" received through the sessions. "It was great to see members of the public take some time out of their busy day to participate in the programme and learn about corrective actions that they can take to improve their health. We look forward to further sessions with the Rotary Club in the future."