Forthcoming Events
Maha Shivaratri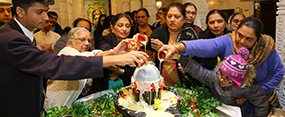 Monday 4 March 2019
International Women's Day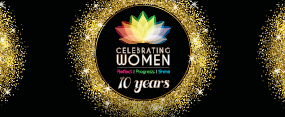 Sunday 10 March 2019
Holi Celebrations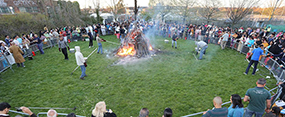 Wednesday 20 March 2019
Community Health Fair
Saturday 11 July 2015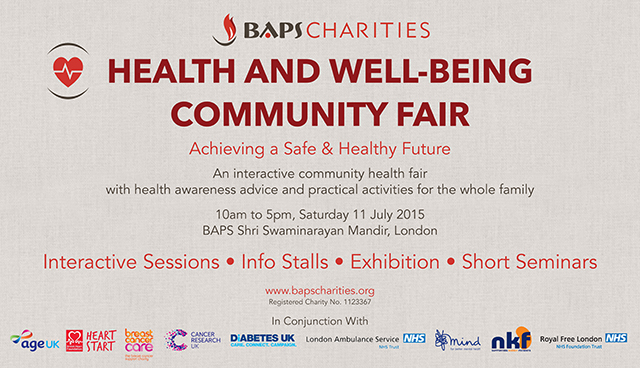 BAPS Shri Swaminarayan Mandir is hosting a community health fair with health awareness advice and practical activities for the whole family.
Join us on Saturday 11 July 2015 from 10am to 5pm for a variety of interactive sessions and info stalls being led by various charities, including Age UK, British Heart Foundation, Breast Cancer Care, Diabetes UK, and Mind Brent. There will also be a health awareness exhibition and short seminars on topics such as keeping your heart healthy, signs and symptoms of cancer, and a healthy mind, a healthy body.
Date
Saturday 11 July 2015
Timings
10am to 5pm
On Offer
Interactive Sessions
Info Stalls
Exhibition
Short Seminars
To Register
Please email [email protected]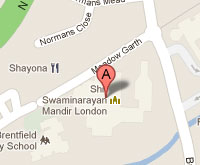 If you are coming to the Mandir by public transport please use the widget below from Transport for London
BAPS Shri Swaminarayan Mandir
105-119 Brentfield Road
Neasden, London NW10 8LD, UK
T: +44 (0)20 8965 2651
F: +44 (0)20 8965 6313
E: [email protected]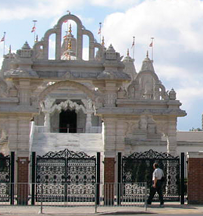 Admission Free
General Opening Times
Mon to Sun: 9.00am to 6.00pm
Allow at least 2 hours for a complete tour
Free public tours
Audio Tour Guides available
Wheelchair access and lifts available
Learn More
BAPS Charities (UK Registered Charity No. 1123367) is an international charity organisation committed to serving needy individuals, families and communities in the UK and elsewhere.

In the selfless spirit of service, BAPS Charities endeavours to provide both emergency care and long-term solutions in the areas of Health Awareness, Educational Services, Humanitarian Relief, Environmental Protection & Preservation, and Community Empowerment.
Related