Guru Purnima
Saturday 23 July 2016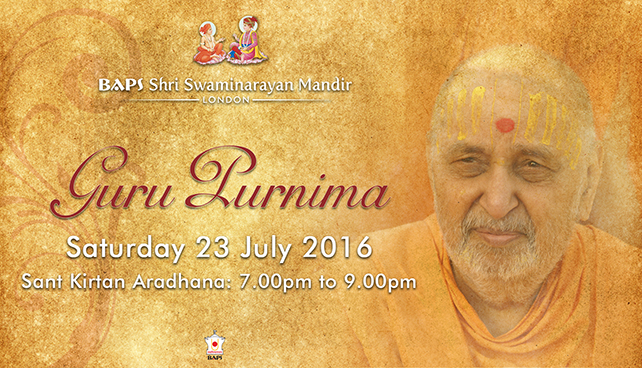 The Guru holds an especially celebrated and revered role in Hinduism as not only a guide but a powerful spiritual medium between humans and God. Devotees celebrate the Hindu festival of Guru Purnima to pay tribute to their Guru and to thank him for all his indispensable contributions in their lives.
Join us on Saturday 23 July at 7pm for an evening of enchanting singing and enlightening discourses extolling the spiritual significance of the Guru in a musical homage.
Date
Saturday 23 July 2016
Time
7.00pm to 9.00pm
Venue
BAPS Shri Swaminarayan Mandir
Programme
Devotional Singing and Discourses by Learned Swamis
Facilities
Crèche and free car parking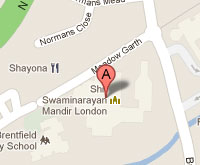 If you are coming to the Mandir by public transport please use the widget below from Transport for London
BAPS Shri Swaminarayan Mandir
105-119 Brentfield Road
Neasden, London NW10 8LD, UK
T: +44 (0)20 8965 2651
F: +44 (0)20 8965 6313
E: [email protected]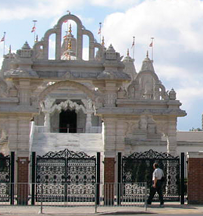 Admission Free
General Opening Times
Mon to Sun: 9.00am to 6.00pm
Allow at least 2 hours for a complete tour
Free public tours
Audio Tour Guides available
Wheelchair access and lifts available
Learn More
Guru Purnima, or the full moon day (purnima) of the Hindu month of Ashadh, is also known as Vyas Purnima, as it is regarded as the birthday of Veda Vyas.

Veda Vyas is believed to have collated all the Vedic hymns and compiled them into the four Vedas. He also authored great Hindu epics such as the Mahabhharat, which encapsulates the Shrimad Bhagwad Gita, and the 18 purans, including the Shrimad Bhagwat Puran.

The day is also observed to pay respect to all teachers and mentors.