Forthcoming Events
Krishna Janmashtami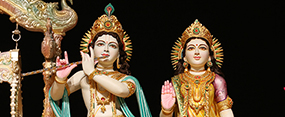 Saturday 24 August 2019
Hindu New Year
Thursday 8 November 2018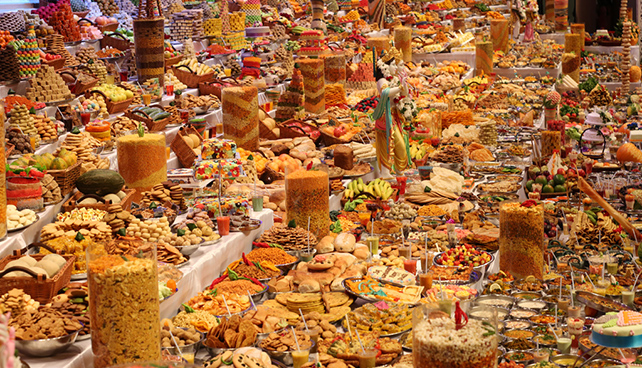 The day following Diwali marks the beginning of the Hindu New Year in parts of North India. It is one of the most auspicious days of the Hindu calendar and celebrated joyously with gifts, feasting and merriment.
BAPS Shri Swaminarayan Mandir in Neasden, London, hosts the largest Diwali and Hindu New Year celebrations in the country. Open to one and all, the celebrations are an opportunity for the whole family to enjoy the traditions, colours and rich culture of the Hindu faith.
Annakut Darshan
12 noon to 9pm
Arti
Every half-hour from 1pm to 9pm
Souvenirs & Hot Food
Available all day in the Diwali Village, in The Swaminarayan School grounds
Make a personal offering to the Deities by sponsoring a prasad-thali in the Annakut
Parking
Ample free parking will be available at Sattavis Patidar Centre (HA9 9PE), Euro Car Parts (old site at Fulton Road, HA9 0TF) and Unisys (next to Bridge Park Community Leisure Centre, NW10 0RG), with shuttle services operating throughout the day.
Public Transport
Bus 206 and 224 will operate their normal service.
TfL will operate shuttle buses from Neasden Station to the Mandir. These will commence at 10am and will operate every 10 minutes until 9pm.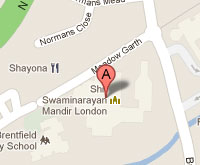 If you are coming to the Mandir by public transport please use the widget below from Transport for London
BAPS Shri Swaminarayan Mandir
105-119 Brentfield Road
Neasden, London NW10 8LD, UK
T: +44 (0)20 8965 2651
F: +44 (0)20 8965 6313
E: [email protected]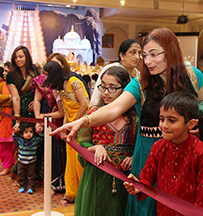 Annakut Darshan
12 noon until 9pm
Annakut Arti
Half-hourly until 9pm
Souvenirs & Hot Food
8am to 10pm
Diwali Village, in The Swaminarayan School grounds
Wheelchair access and lifts available
Learn More
The Hindu New Year is a time of renewal, reflection and resolution. It is also an occasion for thanksgiving, and is traditionally celebrated with the Annakut – literally, 'a mountain of food'.

This is a grand offering of hundreds of different vegetarian food items to thank God for his providence over the past year and to seek his blessings for the year ahead. This is in continuation of when Bhagwan Krishna urged the people of Gokul to offer thanksgiving to nature (in the form of Mount Govardhan) for all its gracious bounty.
Related