Diwali
Thursday 23 October 2014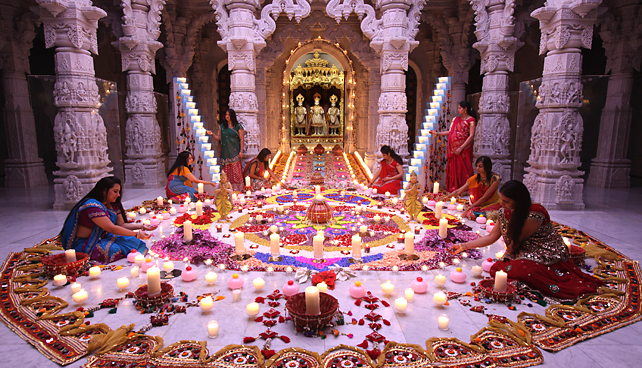 Diwali is one of the most important and colourful festivals of the Hindu calendar. It is a time when charity, goodwill, family values and the love of God are celebrated and reinforced.
BAPS Shri Swaminarayan Mandir in Neasden, London, hosts the largest Diwali and Hindu New Year celebrations in the country. Open to one and all, the celebrations are an opportunity for the whole family to enjoy the traditions, colours and rich culture of the Hindu faith.
Darshan
Open all day until 8.30pm
Chopda Pujan
6.00pm to 7.30pm
Haveli Assembly Hall
Fireworks Display
8.30pm to 9.00pm
Gibbons Park
(Behind The Swaminarayan School)
Hot Snacks
4.00pm onwards
Food Stalls
Parking
Ample free parking will be available at the Mandir car parks, Unisys (next to Bridge Park Community Leisure Centre, NW10 0RG) and other nearby locations, with shuttle services operating throughout the day.
Public Transport
Bus 206 and 224 will operate their normal service.
TfL will operate shuttle buses from Neasden Station to the Mandir. These will commence at 5.00pm and will operate every 10 minutes until 7.15pm. The service will return from the Mandir to Neasden Station every 10 minutes until 9.30pm.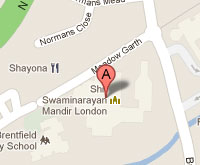 If you are coming to the Mandir by public transport please use the widget below from Transport for London
BAPS Shri Swaminarayan Mandir
105-119 Brentfield Road
Neasden, London NW10 8LD, UK
T: +44 (0)20 8965 2651
F: +44 (0)20 8965 6313
E: info@londonmandir.baps.org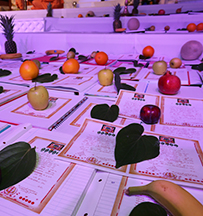 Darshan
Open all day until 8.00pm
Chopda Pujan & Sabha
5.00pm to 6.45pm
Haveli Assembly Hall
Fireworks Display
7.45pm to 8.15pm
Gibbons Park, behind The Swaminarayan School
Hot Snacks
12 noon onwards
Diwali Village, in The Swaminarayan School grounds
Wheelchair access and lifts available
Learn More
Diwali is often referred to as the 'Festival of Light', and is traditionally marked by placing decorated oil lamps (each called a ('deepa') in rows ('avali') – hence the Sanskrit name, 'Deepavali'.

This practice can be traced to the return of Bhagwan Rama to Ayodhya after vanquishing the evil King Ravana. The people of Ayodhya celebrated his return by lining the streets with oil lamps and decorating their front yards with colourful patterned designs (called a rangoli).

Diwali thus celebrates the triumph of good over evil and is a reminder to dispel inner darkness with the light of God's presence.
Related