Haveli Architecture & History

Haveli architecture represents a unique vernacular form of design dating back to the 1600s and earlier, but found to have flourished in the late 18th to early 19th centuries in Gujarat and Rajasthan, western India.
The term itself is often translated to mean 'mansion', and indeed Haveli architecture is described as an elaborate domestic architecture rather than one developed for monuments. Nevertheless, havelis are also associated with some Vaishnava temples, where devotees sought majestic 'homes' for their deities.
Originally crafted by a sub-group of Sompuras (highly skilled stone-carving artisans), these edifices are renowned for the intricacy and ingenuity of their wooden carvings.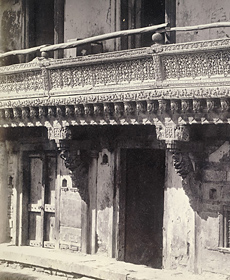 Profusely carved doors, windows, verandas, balconies and façades can be found in their hundreds embellishing homes and temples in the cluttered streets and winding alleys of Gujarat's many towns and villages.
Some of the most intricate Haveli craftsmanship found its early home in mandirs of the Swaminarayan tradition. In fact, one of the finest examples of a 19th century haveli can be seen at the Swaminarayan mandir in Ahmedabad, Gujarat, the first mandir built under the personal auspices of Bhagwan Swaminarayan, in 1822. Other early examples include the havelis at Swaminarayan mandirs in Vadtal, Dholera, Junagadh, Gadhada, Muli and Dholka.
The Haveli, as part of BAPS Shri Swaminarayan Mandir in London, is in continuation of this almost 200-year-old tradition of Swaminarayan mandir-building.
Sadly, Haveli architecture was becoming somewhat of a dying art form. Not in the previous 100 years had such a haveli been constructed in India or elsewhere, with many older buildings falling into ruin or being demolished. Since the Haveli in London, however, further examples of Haveli architecture can be found at recently constructed BAPS Swaminarayan mandirs in Nairobi, Chicago, Los Angeles, Toronto, and many more around India.