Weekly Satsang Assemblies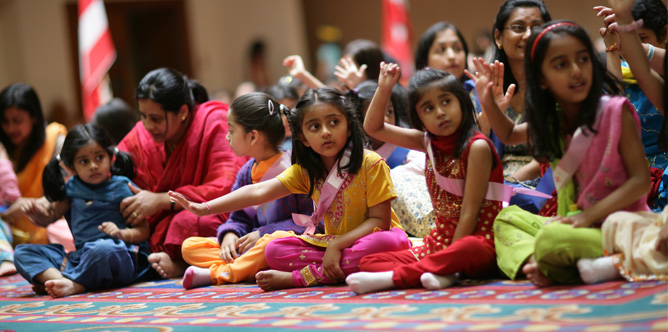 In the Swaminarayan Sampradaya, it is important for celebration and worship to be informed by proper scriptural understanding as revealed by Bhagwan Swaminarayan and the enlightened gurus. To facilitate this, weekly assemblies are held in the Haveli's main hall and surrounding areas where learned sadhus and experts deliver discourses on the history, theology and practical aspects of the Swaminarayan Sampradaya and Hindu faith. Interspersed with interactive presentations, singing and chanting, and concluded with the arti and communal prayers, the assemblies usually last about two hours on a Saturday evening and cater to a wide range of age groups – from toddlers through to the elderly.
Along with the fundamental theological themes covered consistently around the year, other topics regularly covered include:
family values
community spirit and serving the less fortunate
interfaith harmony and respect
channelling the energy, ideas and potential of children and youths
caring for and respecting the elderly
dangers of substance abuse
education
healthy living
environmental responsibility
contributing to the nation
The current timings for the assemblies are as follows:
Age Group
Timing

Forumta Ful
(Babies 0 to 3)

Every Saturday
Sabha: 5.30pm to 6.15pm

Bal & Balika Mandal
(Children from 5 to 13)

Every Saturday
Registration: 4.30pm to 4.45pm
Gujarati Classes, Mahaprasad & Sports: 4.45pm to 6.30pm
Sabha & Mandir Arti: 6.30pm to 8.15pm

Kishore & Kishori Mandal
(Adolescents from 14 to 21)

Every Saturday
Sabha: 4.45pm to 6.15pm
Seva, Mahaprasad, Sports & Mandir Arti: 6.15pm to 8.15pm

Yuvak & Yuvati Mandal
(Adults from 22 to 35)

Every Saturday
Mandir Darshan: 4.30pm to 5.30pm
Sabha: 5.30pm to 7.15pm
Mahaprasad: 7.15pm to 8.15pm

Sanyukta Mandal
(36 and above)

Every Saturday
Mandir Darshan & Mahaprasad: 5.00pm to 6.00pm
Sabha: 6.00pm to 7.45pm

Satsang Sabha
(All ages)

Every Sunday
Mahaprasad: 5.00pm to 6.00pm
Sabha: 6.00pm to 7.30pm
To learn more about the satsang activities available at the Mandir, please see this leaflet here.
Related