Worship

BAPS Shri Swaminarayan Mandir is a Hindu temple dedicated to the worship of Bhagwan Swaminarayan and the millennia-old practice of the Hindu faith. Its cycle of daily ceremonies, weekly assemblies and year-round festivals make it a place of vibrant and joyous devotion, learning and celebration for the whole community.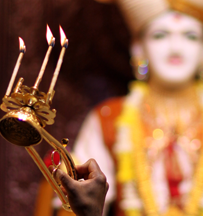 Arti Timings
Mangala: 6.00am
Shangar: 7.30am
Rajbhog: 11.45am
Sandhya: 7.00pm
Shayan: 8.00pm
Abhishek Timings
9.30am to 12 noon
4.00pm to 5.30pm
Please note that the Mandir is open to visitors from 9.00am to 6.00pm only.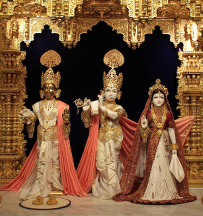 The Mandir and Haveli are open to the public from 9.00am to 6.00pm throughout the year, including Bank Holidays. However, please note these specific timings:
Murti Darshan Open
9.00am - 11.00am
Murti Darshan Closed for Thal
11.00am - 11.45am
Murti Darshan Open for Arti
11.45am -12.30pm
Murti Darshan Closed
Mon to Fri: 12.30pm - 4.00pm
Sat & Sun: 12.30pm - 3.30pm
Murti Darshan Open
Up to 6.30pm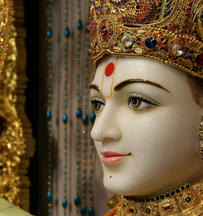 The images enshrined in the Mandir are ritually infused with the presence of God and are the focus of all forms of worship. All activities of the Mandir revolve around these Deities.

Without the Deities, the Mandir would be no more than a beautiful building. With them, it is a sacred place of worship wherein God resides – the home of God.
Related