The Swaminarayan School

The Swaminarayan School was founded in 1991 by His Holiness Pramukh Swami Maharaj to provide the best of state and independent education cradled in the supportive atmosphere of the Hindu ethos. It became the first Hindu school of its kind in the western hemisphere.
The first cohort of 80 Prep School pupils was admitted in September 1992, with the first Senior School intake coming the following year. Today, around 500 boys and girls aged between two-and-a-half and eighteen are learning and growing their way to becoming competent, responsible and purposeful adults. Indeed, one of the most striking features of the School that visitors invariably comment on is the purposeful atmosphere they encounter, both in the classrooms and throughout the campus.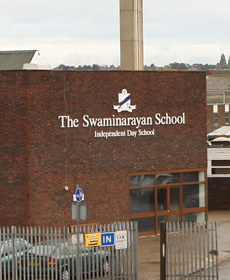 Almost two decades of purposeful vision, investment and hard work from trustees and governors, teachers and non-teaching staff, as well as parents and pupils, have made The Swaminarayan School a consistently high-achieving establishment which continues to go from strength to strength. This is no less evident from its proven track record of academic excellence, including the exceptional results and performance rankings of recent years:
The School has always been at or near the top of the Brent league tables for the last eight years with almost all pupils achieving five or more GCSE grades A* to C, including in English and Mathematics.
 
In 2011, according to the Daily Telegraph tables, the School was ranked top among all independent schools in London, and fourth highest in England.
 
The Key Stage 2 SATs results are consistently exceptional. In July 2010, all students achieved Level 4 and above, with 75% of students recording a Level 5 (the top score available) in English and a remarkable 86% achieving this in Mathematics.
 
Students have gained admission at Britain's top universities, including Oxford, Cambridge, Imperial, UCL, LSE, Warwick and King's. 
 
As a result, places at the School are increasingly sought after, with waiting lists in a number of year groups.
Independent Schools Inspectorate Report 2010
The Swaminarayan School received an excellent report from the Independent Schools Inspectorate in 2010. Some key excerpts include:
The Swaminarayan School provides its pupils of all ages, including the Early Years, with a well-rounded educational experience of high quality. Academic standards are high overall when compared to those found nationally and the quality of pupils' spiritual, moral, social and cultural development is outstanding.
 
The Hindu ethos which permeates through all areas of school life enhances the learning experiences of all pupils and substantially contributes to their personal development.
 
Throughout both [Prep and Senior] schools, pupils retain their composure before and during lessons, show self-control and acquire a sense of purpose about their schooling.
 
Most of what the school provides is either good or outstanding and fully supports the school's aims to develop pupils' values, self-confidence and way of life and to promote high academic standards.
 
In the Prep School: Teaching is consistently of a high quality. The introduction of thinking maps and the 'Philosophy for Children' programme which helps pupils to think and learn for themselves has been highly successful.
 
In the Senior School: Much of the teaching provides excitement, challenge and enrichment beyond the normal curriculum.
 
The full report can be found on the ISI site here.
Outside the Classroom
Pupils are encouraged to participate in a range of extra- and co-curricular activities, including clubs, sports, drama and dance performances, and an extensive programme of music classes to learn both Indian and European instruments. Clubs range from ballet and karate to cub scouts and the Duke of Edinburgh Scheme. The School also arranges regular day trips to museums, parks and other places of educational value, whereas residential outings include outdoor activities such as skiing and camping.
"I cannot tell you how marvellous it is to visit a community in this country which is clearly inspired by the values of Hinduism, the children of which are also brought up and educated within the framework of such values. [quoteLineRef]HRH Prince of Wales, 14 March 1996[/quoteLineRef]"
Hindu Ethos
The Hindu ethos forms not just a part of school life but pervades it – from morning assemblies to the vegetarian meals offered at lunchtime. Additionally, students have lessons in the Indian performing arts up to Year 8, and study Gujarati and Religious Education in Hinduism up to GCSE level. The School also participates in a number of Hindu festivals, providing the children an opportunity to experience Hindu traditions firsthand.
As part of the Religious Education course, all other major faiths are also taught and festivals such as Christmas, Hannukah and Vaisakhi are celebrated. Other observances include St. George's Day, St. David's Day, St. Patrick's Day, and the Chinese New Year.
Charitable Work
Inspired by Hindu values and its founder, The Swaminarayan School is also a keen supporter of many local, national and international charities. As a result, the children are inculcated with important character-building values such as giving, sharing, treating each other as equals, and helping those less fortunate than themselves. The immense sense of reward from having helped someone in need is one of the most important gifts the School is proud to offer to its pupils.
To learn more about The Swaminarayan School, visit its independent website at www.swaminarayan.brent.sch.uk.