Visit Us

Enjoy hours of beauty, peace and discovery at BAPS Shri Swaminarayan Mandir – a masterpiece of exquisite Indian design and workmanship in the heart of London. Marvel at the intricate marble and wooden carvings, experience a traditional Hindu prayer ceremony, or learn about the world's oldest living faith from the 'Understanding Hinduism' exhibition. Whatever you prefer, you can plan and prepare for your visit here.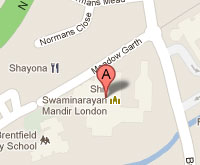 If you are coming to the Mandir by public transport please use the widget below from Transport for London
BAPS Shri Swaminarayan Mandir
Pramukh Swami Road
Neasden, London NW10 8HW, UK
T: +44 (0)20 8965 2651
F: +44 (0)20 8965 6313
E: info@londonmandir.baps.org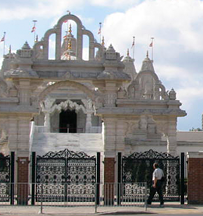 Admission Free
General Opening Times
Mon to Sun: 9.00am to 6.00pm
Allow at least 2 hours for a complete tour
Free public tours
Audio Tour Guides available
Wheelchair access and lifts available
A London Landmark
National Geographic
One of London's Seven Wonders
Time Out City Guides
One of the most amazing sights in the world
The World of Interiors
Hi! My wife and I visited your amazing Mandir a week ago and just wanted to say thank you for an incredible visit. The staff were friendly and helpful; we learned a lot and enjoyed the time immensely.
Anthony Bennett DCR(R); MSc
Superintendent Practitioner in Nuclear Medicine
West Suffolk Hospital
Read more visitor opinions