Art & Architecture

Adjacent to the stone Mandir is the Haveli, a unique cultural centre exquisitely crafted from wood.
Providing modern amenities and built with innovative environment-friendly features, it is a hub of activity for all who come to learn, worship and celebrate at the Mandir.
Intricately carved in Burmese teak and using English Oak, it is a masterpiece of traditional Haveli architecture – a genre that developed around the 17th century in Gujarat and Rajasthan in western India. Characterised by porch façades and central open courtyards, it is known for its array of profusely carved columns, struts (angled supports), arches, doors, windows and balconies.
As a dying art form, not in the past 100 years had such a haveli been created in India or elsewhere.
Façade
The Haveli is entered through the richly carved portico. Atop the fluted columns ('pillars') and along the sculpted panels and struts are a breathtaking parade of elephants, lions, peacocks, swans and parrots – all said to accord a cordial and auspicious welcome to worshippers and visitors.
On the upper floor, the balcony's curvilinear balustrade (enclosing barrier) is a frieze (carved panel) teeming with floral and geometric patterns. The jutting canopy above is supported by tapering columns and twinned struts. In between, cusped arches feature images of the sun and moon – a further salutation to the forces of nature and time.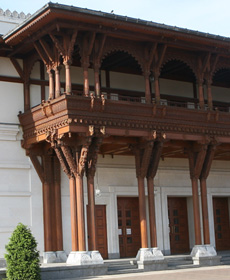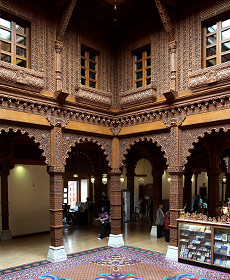 Courtyards
Inside, the foyer leads to two majestic courtyards with soaring teak columns and oak panels. Dancing peacocks, prime lotuses and royal elephants beckon in greeting from around the walls.
Here, too, the columns are connected with cusped arches sporting the sun and moon.
Above, balconies with their protruding balustrades fill the upper floor alongside carved panels replete with floral patterns. Intermittently placed pilasters (partial pillars) and struts rise to meet the lightwell that opens each courtyard to the sky.
Carpet
Complementing the carvings in wood are the traditional designs of the carpet below. Made from blended wool, the pile-woven bespoke broadloom features a blooming lotus medallion surrounded by lush foliage and plumes of colourful feathers.
Together, the symbolic motifs of the Haveli offer a joyous, pious and auspicious welcome to the Mandir.