Arti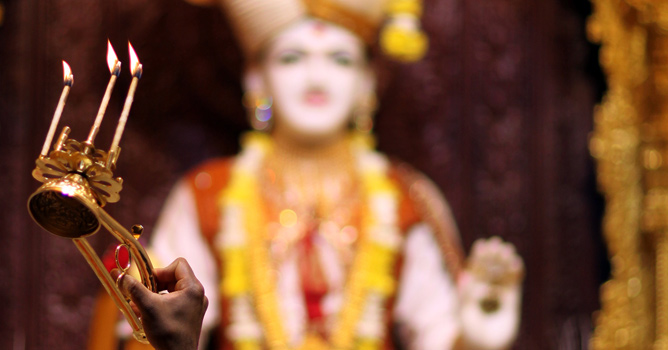 The arti (pronounced 'aarti') is one of the most important and popular ceremonies of the Hindu faith, and features prominently at the Mandir. It is a form of prayer offered in greeting and thanksgiving to God where devotees are reminded of his glorious presence and providence.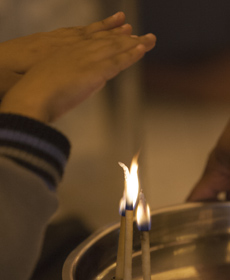 Often called the 'ceremony of light', the arti involves waving lighted wicks before the sacred images to infuse the flames with the Deities' love, energy and blessings. It is performed by sadhus (Hindu monks) and pujaris (attendants to the Deities) with a deep sense of reverence and adoration to a prayer joyously sung to the accompaniment of musical instruments, including drums, bells, gongs and a conch-shell.
After the short 4-minute prayer, the lighted wicks are passed around the congregation to allow members to receive the blessings infused within the flames. Members hover their down-turned hands over the flame and then reverently touch them to their eyes and head. More prayers and verses are sung during this time, and the whole ceremony usually takes up to 20 minutes depending on the time of day.
The arti is performed five times during the day at the Mandir, with each arti relating to a specific part of the Deities' routine. The timings are:
| Time | Name | Meaning | Significance |
| --- | --- | --- | --- |
| 6.00am | Mangala Arti | 'auspicious' | When the Deities offer the first darshan of the day, signifying the auspicious beginning of the day for devotees |
| 7.30am | Shangar Arti | 'adornments' | When the Deities are dressed and adorned |
| 11.45am | Rajbhog Arti | 'royal offering' | After the Deities have been offered their midday meal |
| 7.00pm | Sandhya Arti | 'evening' | When the Deities offer their special evening audience |
| 8.00pm | Shayan Arti | 'sleeping' | When the Deities are about to retire for the night |
Visitors are welcome to attend the midday Rajbhog Arti. The initial waving of the lighted wicks is followed by a short prayer of offering to conclude the meal that has just been offered to the Deities. The whole ceremony lasts around 8 minutes, before everyone is allowed closer to the shrines for darshan of the sacred images.
To learn more about the Hindu arti ceremony – its origin, meaning, practice and significance – please click here. 
If you would like to hear the arti prayer as it is sung at the Mandir, please click here. The words of the arti and an English translation of it can be found here. 
Related