How It Was Made

The Concept & Design
With the Mandir following an almost 200-year-old tradition within the Swaminarayan Sampradaya, it was natural that the adjacent cultural centre would also be in continuation of the havelis found in early 19th century Swaminarayan mandirs, some of them built under the auspices of Bhagwan Swaminarayan himself.
Like the stone mandir, though, a building in London with an intricate wooden façade and internal courtyards posed its own set of novel challenges. So as plans were being discussed, architects and structural engineers from both England and India visited examples of older havelis in India to see what could be possible in London. After much research, deliberation, testing and innovative engineering, working drawings were finalised in late 1992 for a functional and distinctively traditional haveli facility.
To learn more about the history and tradition of Haveli architecture, please click here.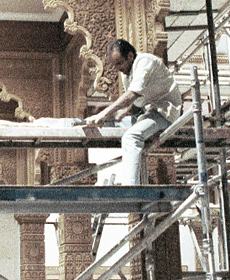 The Wood
Two types of wood were selected for the making of the Haveli – Burmese Teak and English Oak.
Havelis in India have a long history of using Burmese Teak, and with its durability, natural water-resistant qualities and striking wood grain, it was also the perfect choice for the Haveli in London; for the exterior it needed to withstand the harsh British elements, yet its texture was ideal for the delicate carvings both inside and on the façade.
For the load-bearing beams and structural framework, English Oak was chosen because of its sturdiness and durability; its heartwood is said to be naturally resistant to decay.
Importantly, both types of wood were used in an environmentally sensitive way. To learn about how the timber was sourced from managed forests, and how over 10 saplings were planted for each tree felled, please click here.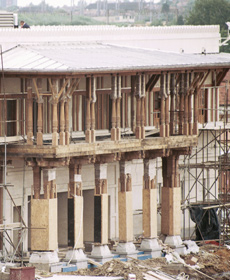 The Crafting
The Haveli covers over 17,760 square feet of woodcarving. With this form of building having not been attempted for the last 100 years – carpenters had since dabbled in embellished furniture, but little more – it was a challenge to assemble a skilled workforce for a project of this scale and detail.
Eventually, 169 craftsmen were engaged as work began in December 1993. At 8 workshops across India – in Gujarat, Rajasthan, Maharashtra, Uttar Pradesh and Bengal – they chipped and cut and patiently carved away.
Within a year and 8 months, the entire building with its intricately carved wooden features was ready for the opening.
For a complete timeline of how the Mandir was created, please click here.