How It Was Made – In Detail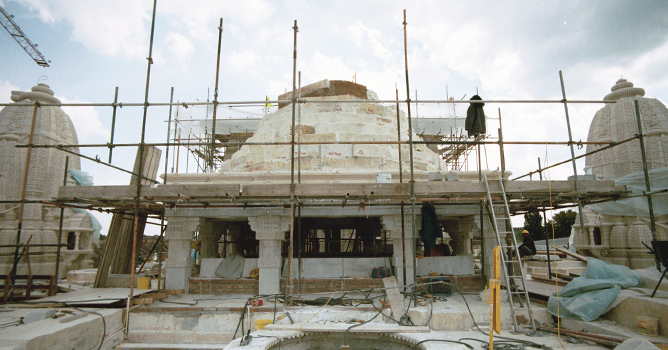 Not in modern times had a traditional stone mandir of this scale and intricacy been created outside of India. It was the first time ever in the western world.
Presented here is the fascinating account of its creation – from conception to consecration.
History
Underlying the Mandir in London is a long and arduous history stretching back almost 60 years – from the gatherings of new immigrant devotees in a Baker Street office (early 1950s), to the first mandir in a converted church in Islington (1970), moving to a rundown warehouse on Meadow Garth in Neasden (1982), and finally to the creation of BAPS Shri Swaminarayan Mandir on Brentfield Road (1995).
To learn more about the history of BAPS Swaminarayan Sanstha in the UK, please click here.
Vision
The Mandir was first envisioned by His Holiness Yogiji Maharaj, the predecessor of His Holiness Pramukh Swami Maharaj.
On his visit to England in 1970, Yogiji Maharaj consecrated a small Swaminarayan mandir at the site of a disused church on 77 Elmore Street in Islington, north London. It was the first such Hindu mandir in the UK.
During his stay in London, on 26 May 1970, Yogiji Maharaj expressed his vision that a traditional mandir be built in London in the future. After the passing away of Yogiji Maharaj the following year, Pramukh Swami Maharaj took it upon himself to materialise his guru's vision.
Site
As the congregation began to outgrow the Meadow Garth mandir after its opening in 1982, the search began for a suitable site to accommodate a larger, traditional mandir.
After scouring some 23 sites around London over the coming years, the search ended – quite literally – across the road from the existing mandir in Neasden itself. On the corner of Meadow Garth and Brentfield Road, an obsolete garage and warehouse was put up for sale in 1990. On his visit to London that year, Pramukh Swami Maharaj asked devotees to enquire. The 3.85-acre plot was eventually acquired later that summer on the instructions of His Holiness.
Ground-Breaking Ceremony
During the autumn of 1990, a small team of architects and engineers from India arrived in London to ascertain the feasibility of the project on this site. After a few checks and tests, it was given the all-clear, triggering the process for acquiring the necessary planning permission.
After the local authorities granted their approval in June 1991, Pramukh Swami Maharaj performed the traditional ground-breaking ceremony soon afterwards, on 7 July.
Planning, Research & Design
A traditional stone mandir of this size and intricacy in London posed its own unique set of challenges.
Architects, engineers and scholars from BAPS – both in the UK and India – teamed up with Sompuras (traditional temple architects) in India along with experts and consultants from London to create a project team.
The Mandir had to conform to India's ancient architectural texts, the Vastu Shastras, and yet also meet the requirements of Britain's stringent building code. For further insights on how to satisfy both, members of the project team embarked on an 18-day study tour of Swaminarayan mandirs and other traditional Hindu temples in India in late 1991.
After much research, consultation, deliberation, testing, and guidance from Pramukh Swami Maharaj, detailed plans were drawn up for the Mandir and submitted in early 1992.
The Stone
A key question for the engineers was that of material. While it was granted that the Mandir would be made of stone, which type would be able to withstand the harsh, wet and wintry British climate? Added to this was the Vastu Shastra tradition of temple masonry being self-load-bearing – with no steel reinforcements or structural support. But while it had to be durable and sturdy, the stone also needed to be receptive to intricate carving.
Many worthy candidates were considered – from various types of marble to Rajasthani pink sandstone and Portland limestone.
Eventually, after much travelling around Europe and rigorous testing in the UK – tests included checking against atmospheric pollutants and for density, compression, flexure, rupture, water absorption, abrasion, freeze-thaw reaction and cement compatibility – it was decided to opt for a combination: Bulgarian limestone on the outside, and Italian and Indian marble on the inside.
Bulgarian limestone was selected after stone experts made numerous trips to the remote town of Vratza in the Balkan Mountains foothills in north-west Bulgaria. They studied the stone in quarries, and examined old buildings made from the Vratza limestone to assess long-term effects of the environment. Finding it to be remarkably impervious to the country's harsh weather – temperatures range there from -15°C to 30°C – and with minimal degradation of exposed carvings, the dense, creamy-white and finely grained stone was deemed ideal for the Mandir's exterior.
For the interior with its intricate carvings, marble was the preferred choice. It is relatively soft and easy to work, refine and polish, and is said to become harder and more durable as the sculpted stone ages. And with marble's notable surface translucency, figurative works would be given a certain visual depth and realism not possible with other materials.
Ambaji marble from northern Gujarat, India was chosen for its snow-white colour and pure, vein-free finishing. But with the large quantity required within the tight construction schedule, marble also had to be sourced from Italy's popular stone-city of Carrara in Tuscany. Famed for its consistent white colouration, smooth texture and considerable strength, it proved ideal for load-bearing columns, beams, walls, and internal flooring.
In addition, granite from the Mediterranean island of Sardinia was selected for its particularly water-resistant and durable qualities, to be used for the upper foundation and moat around the Mandir.
Shipment to India
The finest Hindu craftsmanship can be found only in India. But getting the raw materials there was another logistical challenge.
The Bulgarian limestone was transported from Vratza to the Black Sea port of Varna, from where it was shipped to Kandla port on the west coast of Gujarat. The first of three consignments departed on 5 December 1992. The 315 blocks weighing 1,351 tonnes made the 3,800-mile voyage in almost 2 months. A further 343 blocks weighing 1,604 tonnes and 9 blocks weighing 40 tons reached Gujarat in January 1994 and March 1995, respectively.
The Italian marble had a slightly longer route, reaching Kandla from La Spezia via Dubai. Over 2 years, 25 consignments carrying a total of 1,200 tonnes were shipped more than 4,800 miles.
Workshops in India
To save time, a 15,000 square metre-plot was acquired in Kandla where workshops were set up to craft the stones once they arrived from Bulgaria and Italy. A mini-township was developed around the workshops to cater for the 650 artisans who would be working at the site.
Yet the tight timescale soon demanded that further sites be developed.
For the convenience of the artisans and their families, workshops were set up in their own villages, some of which had been sites of stone-carving for generations if not centuries. For example, 125 craftsmen worked on the Ambaji marble in Ambaji itself. A further 250 and 150 craftsmen worked at Pinwada and Dungarpur, respectively, in Rajasthan.
At peak, a total of 1,526 stone-carvers were involved at 14 different sites in Gujarat and Rajasthan.
Crafting
The process to transform rough blocks of stone into intricately carved pieces for the Mandir was a long, patient and meticulous affair.
Cutting: It began with 'roughing out', or cutting the raw blocks of stones that had arrived from the quarries into the rough shape of whatever they were destined to be. High-powered precision circular saws were used, and it was at this stage that each piece was numbered.
The roughing out process typically results in about 15-20% of wastage. However, diagrams of each piece were carefully configured onto each block, leading to eventually only 2% of unusable stone.
Smoothening: The surface of each piece then had to be smoothened to allow work to begin.
Drawing: Architectural designs of the Mandir now had to be transferred from paper onto stone. For each carved piece, a full-scale drawing was created, from which a metal stencil was prepared.
Contouring: Based on the metal stencil, the designs for each piece were etched onto the stone with approximate contours.
Carving: Now the specialised craftsmen took over. With their innate skill, concentration and patience, they diligently chipped away to create the intricate designs and figures. Although pneumatic hammers and other power tools were available, they mostly preferred their generations-old chisel and mallet.
To get an idea of the work involved: a deep-carved column would take 4 full-time craftsmen each working on one side of the column about 60 days to complete.
Polishing: After the finishing touches from the craftsmen, the carved stone would be patiently polished using successive grades of rough to fine emery paper. Water would also be used in the final stages, to give the stone a burnished lustre.
Checking: Before being packed, each piece underwent a quality check by an expert to ensure all its details were correct along with a confirmation of its numbering and adjoining pieces.
Packing: For its long journey to London, each piece had to be carefully packed to protect its detailed carvings. Any piece damaged in transit would critically delay the rest of the construction. Special cushioning and wrapping was applied before each piece was carefully enclosed in made-to-measure wooden boxes.
Shipment to England
From each of the 14 workshop sites around Gujarat and Rajasthan, the boxes of stone would make their way to the port at Kandla, before being loaded onto ships destined for England over 6,300 miles away. The 26,300 pieces were transported in about 40 consignments to Southampton and occasionally Felixstowe.
The first consignment left the dock on 15 April 1993; the last on 16 June 1995.
Construction & Assembly
Meanwhile on the site in London, demolition of the old garage and warehouse had begun in August 1992 soon after detailed planning permission had been granted by the local authorities.
Foundation: Now the foundations needed to be laid before the winter freeze.
In October, work on the mass piling began. A total of 194 piles – each 2 feet in diameter – were driven between 23 to 36 feet into the ground.
At 6.30am on 24 November 1992, work started on laying the foundation. A 6 feet-thick concrete raft covering 240 feet by 80 feet was laid layer by layer as 11 tipper trucks made 225 trips, incessantly pouring 4,500 tonnes of concrete in 24 hours. It was one of the UK's largest concrete pours in a single day.
Normal concrete could not be used for the foundation because of the weight it was to support – some 8,000 tonnes – and the size of the raft itself; the first layer would begin to set before the second layer had been applied. Instead, a special cement replacement containing customised pulverised fuel ash was used to 'cook' the slab over a 4-month period, thus avoiding the stresses normally associated with rapid setting – especially necessary for buildings that need to stand the test of time.
Assembly: Once the deep concrete foundation had set, the building blocks could be assembled.
On 12 June 1993, the first granite stone was ceremoniously laid. A further 1,500 cubic feet of granite was laid across the base as water-proofing for the lower layers of limestone.
Earlier, the first consignment of carved stones had arrived. After unpacking the boxes and preparing the base, the first carved stone was placed on 29 September 1993.
Over the next two years, the Mandir began to rise from the ground – piece by piece, layer by layer – as each successive consignment of carved stones arrived from India.
Remarkably, of the 26,300 pieces, not one had been missing, damaged or delayed; they all arrived intact, in order, on time.
Volunteers
Around 80 specialist stonemasons worked on the site in London applying the finishing touches. Helping them assemble and fix the pieces was a pool of local BAPS volunteers.
In total, a hundred full-time volunteers and over a thousand part-time volunteers offered their time and talent over the two years, many taking extended holidays or a gap year, and some even leaving their jobs and businesses. Those who were qualified offered their services in electrical wiring and fitting, insulation work, plumbing and drainage, window fixing, landscaping, and other tasks. Others helped in the final polishing and cleaning, and arranging for the 6-day opening ceremony festival. Professionals such as doctors and lawyers along with shopkeepers, students and pensioners all worked together in this extraordinary labour of love.
Inspirer
The volunteers' inspiration and driving force was His Holiness Pramukh Swami Maharaj. From the Mandir's inception and planning to its construction and long-term management, he had provided invaluable guidance, encouragement, support and blessings to everyone involved.
During the summer of 1994, he also spent 2 months in England personally overseeing the progress and planning ahead for its operational infrastructure.
He arrived again in London on 15 July 1995 just as work was reaching its climactic end.
Click here to see a gallery of photos revealing Pramukh Swami Maharaj's role in the Mandir's creation.
Consecration
In the end, everything was ready by the morning of Sunday 20 August 1995. On that auspicious day, Pramukh Swami Maharaj performed the Vedic murti-pratishtha (invocation) ceremony and brought the Mandir to life with the presence of God.
Fundraising
The Mandir was and continues to be funded entirely by the local community of worshippers and well-wishers.
During the construction, some of their fundraising initiatives included the following:
Aluminium Can Recycling: More than 7 million aluminium cans were collected for recycling – one of the largest such recycling projects in the UK. (See also the 1995 Brent Green Leaf Award received from the local council soon after the Mandir's opening.)
"The story of the Neasden mandir could have come from scripture, illustrating the triumph of the human spirit. It is humbling and inspiring that a group of ordinary Londoners could join forces and – using only their faith, hard work and business nous – pull together the money, land, materials and skills to build something so spectacular. – Time Out City Guides"
Sponsored Walks: Over 3,000 walkers participated in sponsored walks at 6 centres around the UK in 1993 and 1995.
Cultural Shows: A troupe of 100 youths and children gave 40 performances around the UK of 10 folk dances and 2 ballets. 
CARE Campaign: An educational campaign allowed well-wishers to support five inspiring programmes:
CARE for Ourselves – discouraging substance abuse
CARE for Our Earth – raising environmental awareness
CARE for Our Family – fostering family values
CARE for Our Society – supporting education
CARE for Our Humanity – promoting interfaith and inter-cultural harmony
 
Personal Savings & Sacrifices: Many devotees simply cut down on expenses and donated their savings.