Exhibition: 'Understanding Hinduism'

The lower floor of the Mandir is dedicated to a permanent exhibition. Spread over 3,000 square feet, it provides an educative insight into the values and wisdom of Hinduism through 3D dioramas, paintings, tableaux and traditional craftwork.
Visitors can learn about the origin, beliefs and values of Hinduism, the contribution of Hindu seers, and how this ancient religion is thriving today through traditions such as the Swaminarayan Sampradaya.
The exhibition also features an 11-minute documentary which narrates the Mandir's religious significance and the story of its creation – from inception to ceremonial consecration.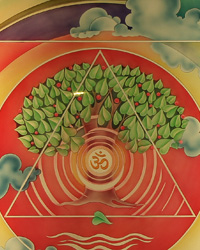 BRIEF OVERVIEW
Auspicious Welcome
Aum – the primordial Hindu sound and sacred symbol provides a peaceful and auspicious welcome into the exhibition.
Origins, Growth, Beliefs
The ancient Vedic civilisation flourished around the sacred rivers of India – the Saraswati, Sindhu and Ganga. Depicted by an entwining glass stream and cavern-like panoramic murals, this opening section helps introduce Hinduism through its origins, growth and beliefs.
To learn more about what is Hinduism and its principal beliefs, or for some FAQs about Hinduism, please follow the respective links.
Hinduism for the Individual
Colourful 3D miniature dioramas tell the stories of Sita, Shravan, Nachiketa and Rantideva, explaining some of the inspiring values and principles of the Hindu faith that uplift the individual – faithfulness, duty, purpose, and charity.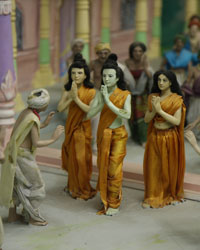 Hinduism for Society
Some of the most remarkable discoveries of the world have been the contributions of Hindu seers and scientists. Their vision and Hinduism's inclusiveness have helped society advance in a myriad of fields. Summarised in this section are these contributions in literature, language, education, mathematics, geometry, astronomy, surgery, and more.
It also pays tribute to the pillars of the Hindu faith through whom it has survived and flourished – from ancient sages such as Veda Vyas to modern luminaries such as Swami Vivekanand.
Hinduism for the World
Three luminescent globes convey the prayers and sentiments of the Hindu faith for the world as visitors learn how it cares for humans, animals and nature. The fundamental belief is: 'The whole world is one family.'
The Swaminarayan Sampradaya
Hinduism is a family of many diverse religious traditions, each with its own beliefs, practices and sacred writings. One of these traditions is the Swaminarayan Sampradaya.
With its roots in the Vedas, and with a wealth of spiritual knowledge and continuous nourishment from a succession of enlightened gurus, the Swaminarayan Sampradaya has grown into an active worldwide fellowship. Understanding it helps one understand Hinduism and its relevance in our modern world today.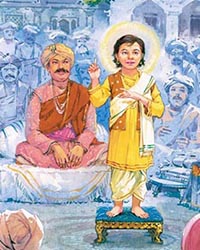 This section briefly introduces the life, work and teachings of Bhagwan Swaminarayan, including his:
Miraculous childhood
Teenage asceticism as Nilkanth Varni
Unique prayer as he began his ministry
Ordination of 500 paramhansas (Hindu monks of the highest order) in one night
Work of social and religious uplift among the neglected and needy
Shikshapatri (a small instructional book of daily living) and Vachanamrut (a compilation of 273 of his sermons providing a detailed exposition of his theology and spiritual practices)
With Bhagwan Swaminarayan living and working for almost 30 years in the central Gujarat region of Kathiawad, this area of the exhibition is depicted as a rustic courtyard as it would have looked in the early 19th century.
Hinduism Today
Today, over 200 years on, the Swaminarayan Sampradaya thrives through many denominations, one of which is BAPS Swaminarayan Sanstha (BAPS).
This final section offers a glimpse into the worldwide activities of BAPS, showing how the beliefs, values and practices of Bhagwan Swaminarayan and Hinduism live on in the daily lives of individuals, families and communities.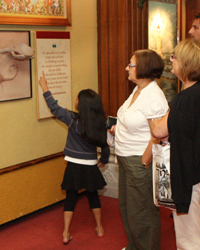 Timings
Mon-Fri: 9.00am to 5.00pm
Sat-Sun: 9.00am to 6.00pm
Entrance Fee
Adults: £2.00
Children (ages 6-16): £1.50
Senior Citizens: £1.50
Payment can be made at the door by cash, cheque or credit card.
Guidebook
An informative guidebook covering the content of the exhibition is available from the Souvenir Shop and also downloadable here.