Garden

Surrounding the Mandir is an award-winning complementary garden. Its sculpted flowerbeds come alive in all their glorious colours during the spring and summer, while the lush clipped lawns, evergreen yews, and ornate patterns of topiary (shaped hedging) can be enjoyed all year round.
In a sense, the garden is a melding of two cultures, with ancient Hindu motifs presented in neo-classical English horticulture, making the garden a natural confluence between the traditional Hindu Mandir and its suburban London locale.
The garden takes the form of two distinct styles.

Parterre Garden
To the front and either side of the Mandir lies a parterre (ornamental flower garden) featuring five lotus-shaped beds framed in light green boxes (hedge-like shrubs) and filled with a variety of colourful tulips and roses.
Floral designs gracing the stone work and woodwork inside are emulated in the garden with real flowers. It offers a delightful introduction to the Mandir itself.
Also surrounding the Mandir is a small moat featuring foam jets incessantly splashing into the granite pools.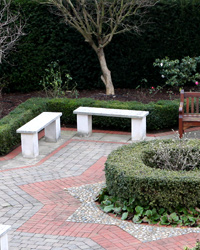 Formal Garden
Towards the back of the Mandir lies what is termed a formal garden.
It creates three interconnecting star-shaped walkways of various sizes, representing the sun (largest), the earth (medium), and the moon (smallest). Together they symbolise the intimate connection we share with nature and the universe around us.
At the centre of the sun-star lies an ornamental lotus pond with a small fountain, while beeches, pink Begonias, and cheerful purple azaleas surround the other areas.
The garden was awarded first prize among business and public premises in the local council's 'Brent in Bloom' competition in 2012, 2010 and 2009. The Mandir's garden also received a Certificate of Excellence from the 2009 'London in Bloom' campaign.
Regrettably, entry into the garden area is closed during inclement weather and days of special observances.