Guided Tours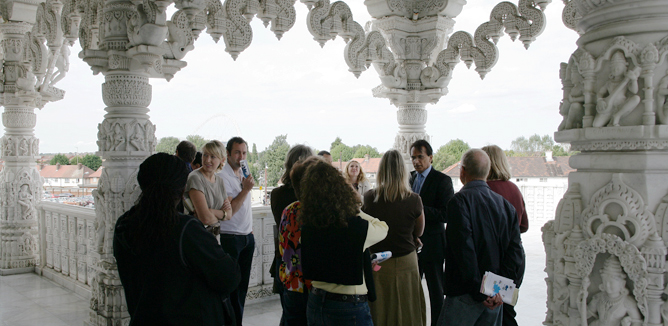 Please note that the Audio Tour Guide is temporarily unavailable while we upgrade our system. Thank you for your patience.
Audio Tour Guide
You can take a fully guided tour of the Mandir using the free Audio Tour Guide. Using the simple audio system, you can listen to detailed information about the various features of the Haveli and Mandir found throughout the complex. At your own pace, learn about the importance of a Hindu mandir, the fascinating story of how the Mandir was built, the Hindu sentiments for each of the sacred images, the significance of Hindu rituals such as the arti, the meaning behind certain architectural designs, and much more.
Please request the Audio Tour Guide at the Information Desk. A £5 deposit will be required when you pick it up, which will be refunded when you return the device.
Due to limited supply, please note that the Audio Tour Guide is not available for school groups.
Personal Guide
Volunteer guides may be available during the day for individuals and families or small groups of 8 or less. Please enquire at the Information Desk on arrival if a guide is available.
If you are certain of your visiting time, and you would like a personal guide, be sure to inform us in advance using our booking form. We'll try our best to have a guide waiting for you, or we may suggest an alternative time when a guide may be available.
Schools & Groups
We endeavour to provide a guide for all schools and large groups but pre-booking is necessary. Please fill in our online booking form, and be sure to see the details here.