Timings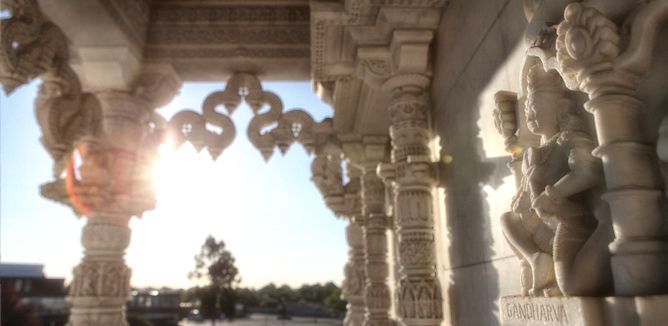 The Mandir and Haveli are usually open to the public from 9.00am to 6.00pm throughout the year, including Bank Holidays. However, please note the specific timings below:
MURTI DARSHAN TIMINGS
From
To
9.00am
11.00am
11.45am
12.15pm
4.00pm
6.00pm*
* Except Saturdays, when it closes at 5.00pm
ARTI TIMINGS
Time
Name
11.45am
Rajbhog Arti
ABHISHEK TIMINGS
From
To
9.30am
12 noon
4.00pm
6.00pm*
* Except Saturdays, when it ends at 5.30pm
EXHIBITION TIMINGS
From
To
9.00am
6.00pm
KEY TERMS
Mandir
Place of worship
Murti
Sacred image of the Deities and gurus
Darshan
Seeing the Deities with reverence and adoration
Arti
Ritual waving of lighted wicks before the Deities
Thal
Ritual offering of food to the Deities
Abhishek
Ritual pouring of water over the sacred image of Shri Nilkanth Varni
Please Note: Due to the many special services throughout the year, timings and access to any part of the Mandir are subject to change, sometimes unavoidably without notice. While all reasonable measures will be taken to avoid any inconvenience, the Management apologises if any is inadvertently incurred.