Restaurant & Shop

Please note that Shayona Restaurant will be closed from Monday 6 March 2017 until further notice for refurbishment works. Shayona Shop and Shayona Sweet Shop will remain open as normal. We apologise for any inconvenience.
Why not complete your visit with a meal at the delightful Shayona restaurant? With traditional Indian décor and mouth-watering vegetarian cuisine, it is the perfect way to experience some authentic tastes of India.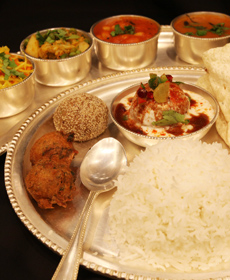 With its entrance opening into the Mandir car park, the Shayona Restaurant is a contemporary and authentic Indian vegetarian restaurant offering a delightful range of cuisine faithful to the best culinary traditions of the Indian subcontinent. The warm hospitality of its staff combined with the unique décor of the restaurant ensures a memorable and enjoyable dining experience for all guests.
For more details, visit the Restaurant's website here or call 020 8965 3365. (To avoid disappointment, prior booking is advised for groups.)
En route to the Restaurant is a delicatessen offering a selection of fine Indian sweets and snacks, while the adjoining shop also offers a wide range of Indian groceries and produce.