Hindu New Year
Monday 4 November 2013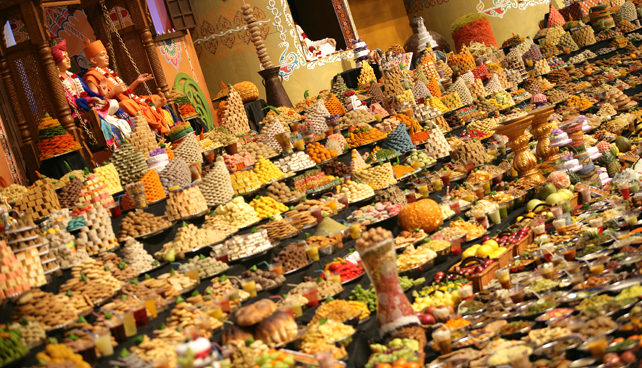 The day following Diwali marks the beginning of the Hindu New Year. It is one of the most auspicious days of the Hindu calendar and celebrated fervently with gifts, feasting and merriment.
BAPS Shri Swaminarayan Mandir in Neasden, London, hosts the largest Diwali and Hindu New Year celebrations in the country. Open to one and all, the celebrations are an opportunity for the whole family to enjoy the traditions, colours and rich culture of the Hindu faith.
Annakut Darshan
12.00 noon until 9.00pm
Annakut Arti
Rajbhog Arti at 12.00 noon
Half-hourly thereafter until 9.00pm
Souvenirs & Hot Food
Available all day in Shayona Marquee
Free Parking
Available all day at Wembley Stadium Shuttle Services in operation
Make a personal offering to the Deities by sponsoring a prasad-thali in the Annakut
Parking
Special arrangements have been made at Wembley Stadium's Yellow Car Park. Shuttle buses from there to the Mandir will be in operation from 4.30am onwards.
Public Transport
Bus 206 and 224 will operate their normal service.
TfL will operate shuttle buses from Neasden Station to the Mandir. These will commence at 8am and will operate every 10 minutes until 9.30pm.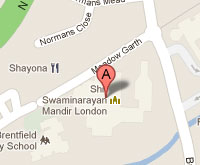 If you are coming to the Mandir by public transport please use the widget below from Transport for London
BAPS Shri Swaminarayan Mandir
105-119 Brentfield Road
Neasden, London NW10 8LD, UK
T: +44 (0)20 8965 2651
F: +44 (0)20 8965 6313
E: info@londonmandir.baps.org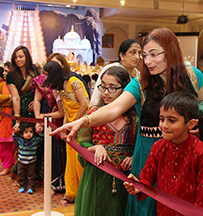 Annakut Darshan
1pm until 9pm
Annakut Arti
Half-hourly until 9pm
Souvenirs & Hot Food
9am to 10pm
Diwali Village, in The Swaminarayan School grounds
Wheelchair access and lifts available
Learn More
The conference will include plenary sessions, symposia and sectional meetings all centred on the theme of "Realising Global Peace".

Scholars and graduate students from India, Britain, Greece and other countries are invited to deliver papers on how religious identity and cultural harmony impact global peace.

Panels will explore topics such as metaphysics and epistemology, religion, and ethics and social philosophy and their role in helping realise global peace.

For those interested in presenting at the conference, an abstract of up to 300 words should be submitted to the Akhil Bhartiya Darshan Parishad by 30 April 2014.

For inquiries and submissions, please email realisingpeace@gmail.com.
Related