International Academic Conference on Global Peace and Hindu Teachings
Tuesday 24 June to Thursday 26 June 2014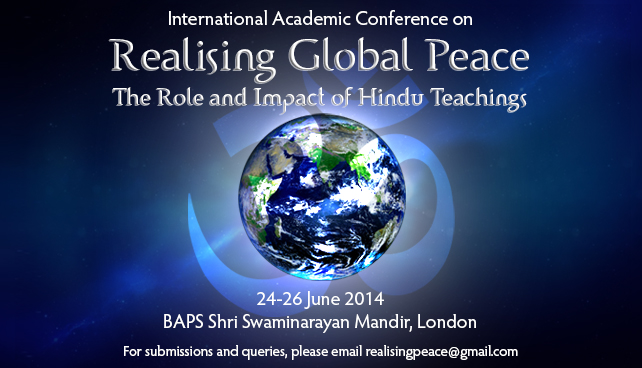 As modern technology increases human connectivity and decreases distances between peoples and nations, the need for peace for individuals and societies becomes more pronounced. The quest for peace within and without is fundamental to various Hindu teachings, and the elucidation of the role of peace within Hinduism can positively contribute to not just academic scholarship but to humanity at large.
To this end, the All-India Philosophy Association (Akhil Bhartiya Darshan Parishad) is organising an international academic conference in collaboration with BAPS Swaminarayan Research Institute and the Indo-Hellenic Society for Culture and Development, Greece to be held at the Mandir in June.
Dates
24-26 June 2014
Venue
BAPS Shri Swaminarayan Mandir
Languages of Presentation
English, Hindi
Organisers
All-India Philosophy Association; BAPS Swaminarayan Research Institute; Indo-Hellenic Society, Greece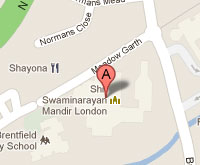 If you are coming to the Mandir by public transport please use the widget below from Transport for London
BAPS Shri Swaminarayan Mandir
Pramukh Swami Road
Neasden, London NW10 8HW, UK
T: +44 (0)20 8965 2651
F: +44 (0)20 8965 6313
E: info@londonmandir.baps.org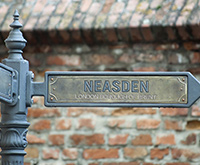 Hotels
Bridge Park Hotel
0.7m away; from £84
Hollingbury Hotel
0.8m away; from £49
Ibis Hotel
2.1m away; from £65
Holiday Inn
2.3m away; from £120
Hilton, Wembley
2.5m away; from £100
Premier Inn
2.6m away; from £119
Wembley Hotel
2.6m away; from £50
Online Celebrations
Scholars and graduate students from India, Britain, Greece and other countries are invited to deliver papers on how Hindu beliefs, values and practices can and do impact global peace.

Plenary sessions and parallel panels will explore topics such as Hindu metaphysics and epistemology, 'religion', and ethics and social philosophy and their role in helping to realise global peace.

For those interested in presenting at the conference, an abstract of up to 300 words should have been submitted to the All-India Philosophy Association by 15 May 2014.

For inquiries and submissions, please email realisingpeace@gmail.com.
Related