News & Events
Neasden Temple Lights Up in Pink for Breast Cancer Awareness Month
Wednesday 26 October 2011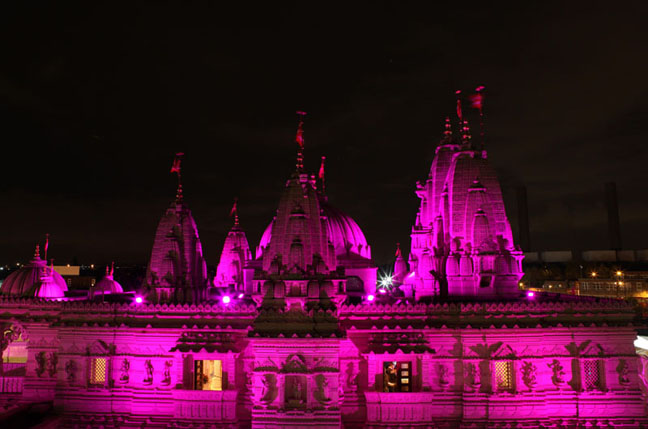 BAPS Shri Swaminarayan Mandir, London was illuminated in pink on the evening of Wednesday 26 October 2011 to support Breast Cancer Care during Breast Cancer Awareness Month. The lighting of the Mandir was seen by thousands who had gathered for the Diwali celebrations and spectacular fireworks display.
October is Breast Cancer Awareness Month where Breast Cancer Care and other charities spread the important message about the disease and the fight to prevent and cure it.
DID YOU KNOW? Breast cancer is the most common form of cancer in the UK. Almost 50,000 women and 300 men are diagnosed with it every year!
Present to switch on the pink lighting was Marie Geiger (Breast Health Promotion Training & Support Officer) from Breast Cancer Care, reinforcing the ongoing relationship between the two charities.
The Mandir has been a keen supporter of Breast Cancer Care since 2007 when it donated £12,000 as part of the centennial celebrations of BAPS Swaminarayan Sanstha. Breast Cancer Care have also featured with stalls and information booths during a number of events organised by the Mandir in London and activities by centres across the UK, including the Cycle Challenge held in Leicester in August 2008, the International Women's Day celebrations in London in 2010, and during medical screenings at the Community Open Day in London in 2011. In 2009, BAPS also helped in producing and promoting an educational DVD for breast cancer concerns among Asian women.
To read a report of this event on the Breast Cancer Care website, please click here.
For further information on Breast Cancer Care, please follow the link.
For expert advice on breast health concerns or breast cancer, please ring Breast Cancer Care's free helpline on 0808 800 6000.
Disclaimer: BAPS Swaminarayan Sanstha is not responsible for the content of external internet sites.