News & Events
Observing Universal Children's Day
Sunday 20 November 2011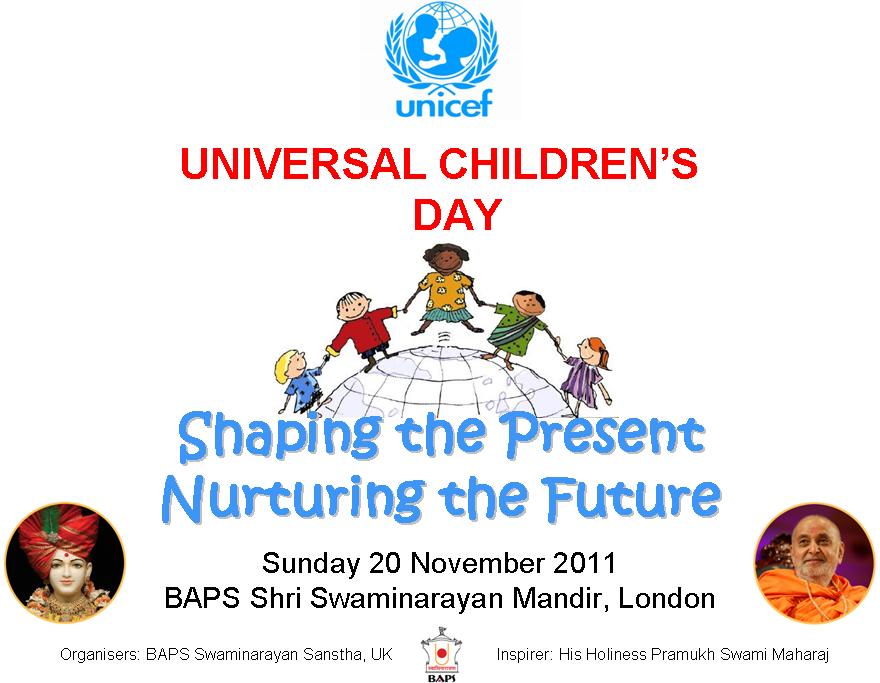 In 1954, the United Nations General Assembly proclaimed that all countries institute a Universal Children's Day, to be "observed as a day of worldwide fraternity and understanding between children." It recommended that the Day be observed also as a day of activity devoted to promoting the ideals and objectives of the UN Charter and the welfare of the children of the world.
Many countries of the world observe this day on 20 November, which marks the day on which the Assembly adopted the Declaration of the Rights of the Child, in 1959, and the Convention on the Rights of the Child, in 1989.
BAPS Swaminarayan Sanstha (BAPS), a member of the United Nations Economic and Social Council, commemorated Universal Children's Day at BAPS Shri Swaminarayan Mandir in London on Sunday 20 November 2011.
Based on some of UNICEF's ten imperatives for children, the theme for the event was 'Shaping the Present, Nurturing the Future'.
Hiren Depala, a volunteer of BAPS Children's Forum in the UK, spoke of the hope and responsibility children represent in our world – the hope that together we and they can enjoy a better tomorrow, but for which today we must fulfil our responsibility of guiding and empowering them in becoming better human beings. He also stressed the importance of the family, social and school environment in ensuring that children can be allowed to blossom into ideal citizens.
Using some poignant slides, he further iterated how fortunate most children are in the UK compared to others in the world. He thus asked those gathered to be grateful for whatever they had, not waste it, share whatever they could, and pray for those children less fortunate than themselves.
He also reminded the audience of Pramukh Swami Maharaj's message 'In the joy of others, lies our own', and shared incidents of the various activities Pramukh Swami Maharaj has initiated for children internationally.
The children and parents then joined in a collective prayer for the well-being of all children around the world.
In thus observing Universal Children's Day, BAPS Swaminarayan Sanstha was able to raise awareness about children's welfare to over 300 children and parents, affirming its commitment to a better tomorrow for children everywhere.
To learn more about Universal Children's Day, please visit the United Nations site here.
Disclaimer: BAPS Swaminarayan Sanstha is not responsible for the content of external internet sites.