Forthcoming Events
Swaminarayan Jayanti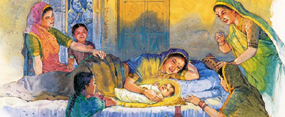 Thursday 30 March 2023
Rama Navmi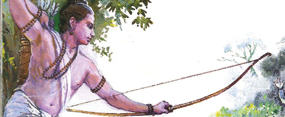 Thursday 30 March 2023
News & Events
£20,000 cheque presented to KIDS
Saturday 31 August 2013
BAPS Charities UK presented a cheque for £20,000 to KIDS at BAPS Shri Swaminarayan Mandir, London on Saturday 31 August 2013. This followed from the funds raised by more than 3,000 participants from across the UK during the BAPS Charities Annual 10K Challenge in April of this year.
Chris Stefani (Treasurer and Trustee) and Warren Koehler (London Director) had arrived to receive the cheque on behalf of KIDS – one of the leading charities in the UK for disabled children.
 In his address, Mr Stefani said, "We are most grateful to BAPS Charities for this fantastic sum of money. It will go a long way in helping us help children with disabilities and their families." 
The funds will help to support a number of projects and initiatives for the charity, including:
Drop-in sessions for children with disabilities and their families from the local community to raise awareness about services available, including healthcare, social services, benefits and will support agencies, education and care packages
Home learning (portage) services for very young disabled children
Development of specialist nurseries and crèches
Development of adventure playgrounds for children with disabilities, such as Aldenham Park in Hertfordshire
Support services for parents of children with disabilities
Dr Sejal Saglani, a lead volunteer for BAPS Charities, shared, "Children are very important to BAPS Charities and we are very pleased to be able to help children who are so sadly disadvantaged. We hope that the funds will help bring some joy to them and make a real difference in their lives."
To read a full report of the Annual 10K Challenge, please click here.
To learn more about the great work of KIDS, please visit www.kids.org.uk.
Disclaimer: BAPS Swaminarayan Sanstha is not responsible for the content of external internet sites.