Holi Celebrations
Monday 6 March 2023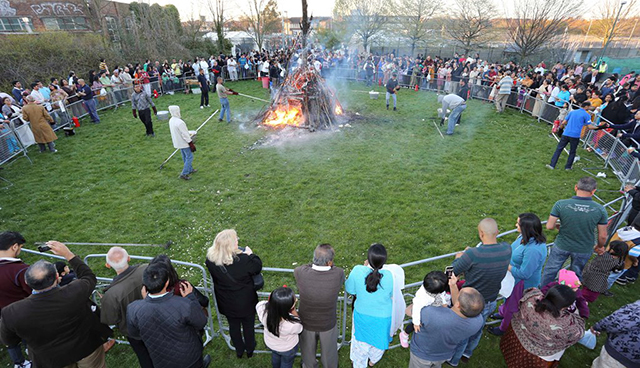 Holi is one of the most colourful festivals in the Hindu calendar. It welcomes the onset of spring and celebrates the new life and vitality of all that follows. It also celebrates the triumph of good over evil and the saving grace of God, symbolised by the lighting of the Holi bonfire.
Venue
Opposite BAPS Shri Swaminarayan Mandir
260 Brentfield Road
Neasden, London NW10 8HE
Holi Lighting & Arti
6.00pm to 6.15pm

Holi Darshan, Pujan & Parikrama
6.15pm to 8.30pm

Free car parking available.
Hot snacks and refreshments available from foodstalls.
Safety
Please observe the instructions of the stewards for a safe, uplifting and enjoyable experience.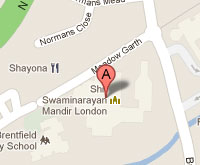 If you are coming to the Mandir by public transport please use the widget below from Transport for London
BAPS Shri Swaminarayan Mandir
Pramukh Swami Road
Neasden, London NW10 8HW, UK
T: +44 (0)20 8965 2651
F: +44 (0)20 8965 6313
E: info@londonmandir.baps.org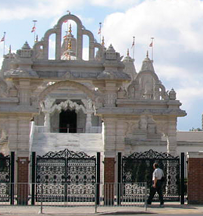 Admission Free
General Opening Times
Mon to Sun: 9.00am to 6.00pm
Allow at least 2 hours for a complete tour
Free public tours
Audio Tour Guides available
Wheelchair access and lifts available
Online Celebrations
Holi also celebrates the story of Prahlad and Holika. Prahlad was the son of the evil king Hiranyakashipu. He was enraged that Prahlad worshipped Vishnu as superior, not him.

After several failed attempts to kill Prahlad, Hiranyakashipu recruited his demoness sister Holika. She had a special boon to withstand fire. But, when she sat in a raging fire with Prahlad on her lap, she was burned to death instead while the praying Prahlad was saved by the will of God.

The Holi bonfire is thus symbolic of the burning of evil and represents God's saving grace.
Related