20th Anniversary Celebrations
January to August 2015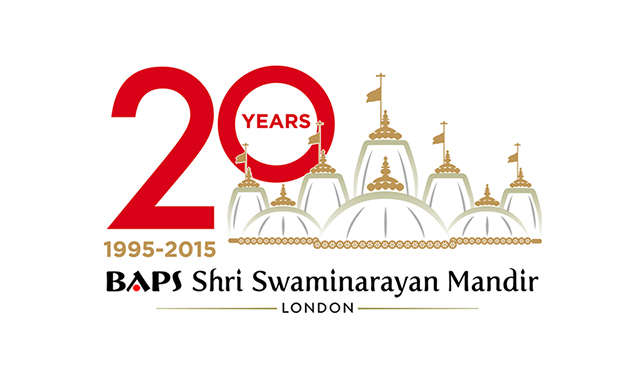 In August 1995, His Holiness Pramukh Swami Maharaj inaugurated BAPS Shri Swaminarayan Mandir, London – bringing to fruition years of sacrifice and devotion for thousands of worshippers and well-wishers.
To mark the 20th anniversary of this momentous occasion, a year of inspiring celebrations has been planned for devotees and the community. These celebrations will culminate in a grand festival on Saturday 22 August, honouring Yogiji Maharaj and Pramukh Swami Maharaj's vision, the volunteers' labour of love, and the Mandir's contributions in the lives of individuals, families and the local community.
Family Seminars
Saturday 18 & Sunday 19 April 2015
Senior Citizens' Appreciation Dinner
Sunday 10 May 2015
Neighbours Open Evening
Thursday 21 May 2015
Anniversary Celebration
Saturday 22 & Sunday 23 August 2015
Women's Day
Sunday 4 October 2015
All events require prior registration.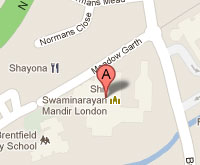 If you are coming to the Mandir by public transport please use the widget below from Transport for London
BAPS Shri Swaminarayan Mandir
105-119 Brentfield Road
Neasden, London NW10 8LD, UK
T: +44 (0)20 8965 2651
F: +44 (0)20 8965 6313
E: info@londonmandir.baps.org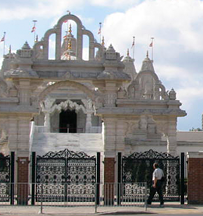 Admission Free
General Opening Times
Mon to Sun: 9.00am to 6.00pm
Allow at least 2 hours for a complete tour
Free public tours
Audio Tour Guides available
Wheelchair access and lifts available
Learn More
BAPS Shri Swaminarayan Mandir, London was first envisioned by His Holiness Yogiji Maharaj in 1970. He prophesied that a traditional shikharbaddha ('spired') mandir would be built in north-west London.

Twenty-five years later, on 20 August 1995, Pramukh Swami Maharaj fulfilled that vision by inaugurating BAPS Shri Swaminarayan Mandir, London – the first traditional Hindu temple built outside of India in modern times.
Related