Krishna Janmashtami
Saturday 24 August 2019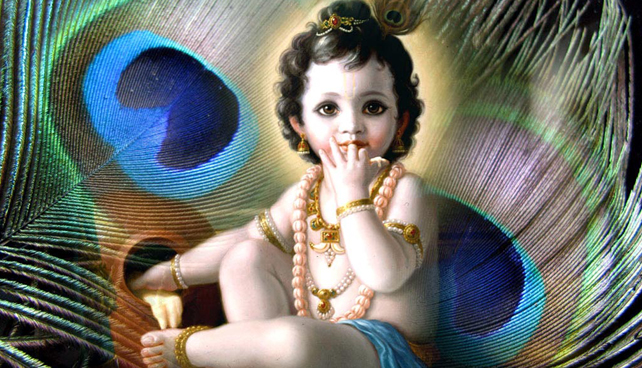 Shri Krishna is an avatar of Vishnu and a popular deity for Hindus around the world. He manifested on earth thousands of years ago on the Hindu calendrical day of Shravan vad 8. This year, that day falls on Saturday 24 August. It will be celebrated at the Mandir with a host of devotional festivities, including a ceremonial offering of food (the 'annakut'), singing, chanting, and an arti signifying the auspicious birth.
Annakut Darshan
9.00am to 8.00pm
Rajbhog Arti
11.45am

Evening Arti
7.00pm
Assembly with Kirtan Bhakti (Devotional Singing)
6.30pm to 8.30pm
Arti Signifying Birth
8.30pm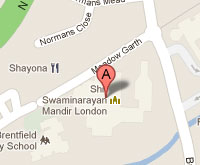 If you are coming to the Mandir by public transport please use the widget below from Transport for London
BAPS Shri Swaminarayan Mandir
Pramukh Swami Road
Neasden, London NW10 8HW, UK
T: +44 (0)20 8965 2651
F: +44 (0)20 8965 6313
E: info@londonmandir.baps.org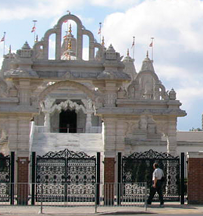 Admission Free
General Opening Times
Mon to Sun: 9.00am to 6.00pm
Allow at least 2 hours for a complete tour
Free public tours
Audio Tour Guides available
Wheelchair access and lifts available
Online Celebrations
Shri Krishna, one of the avatars of Vishnu, graced the world approximately 5,000 years ago.

Though born into royalty, he was brought up as a cowherd. Thus, he is frequently seen pictured with cows and gopis (female devotees of the cowherd community).

Playing the flute, he won the hearts and souls of devotees.

His closest and dearest devotee is Shri Radha, who exemplifies unflinching love, total dedication and acceptance of the Divine Will.

The teachings of Shri Krishna are documented within the Bhagavad Gita, in which he outlines the basic tenets of true spirituality and encourages Arjun to fight for the greater good by defending righteousness.
Related