Sangitmay Bhagwat Parayan Katha
Monday 8 to Friday 12 August 2016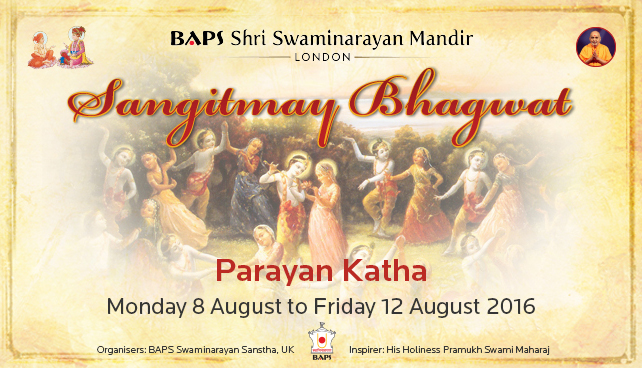 BAPS Shri Swaminarayan Mandir, London warmly invites you, your family and friends to join us during the Hindu holy month of Shravan for a musical parayan katha on one of Hinduism's most revered scriptures, the Shrimad Bhagwat Puran.
The katha will be delivered by Pujya Yogipremdas Swami, a learned sadhu and accomplished singer who has been serving under the spiritual guidance of His Holiness Pramukh Swami Maharaj for over 20 years. Through his insightful discourses and soulful singing, he will be expounding upon the key messages of this profound ancient text.
Come learn about and experience true devotion unto God along this enlightening five-day scriptural journey.
Dates
Monday 8 to Friday 12 August 2016
Katha Timing
8.00pm to 10.00pm
Venue
BAPS Shri Swaminarayan Mandir
Facilities
Crèche and free car parking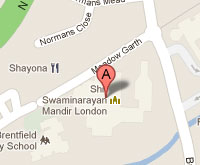 If you are coming to the Mandir by public transport please use the widget below from Transport for London
BAPS Shri Swaminarayan Mandir
105-119 Brentfield Road
Neasden, London NW10 8LD, UK
T: +44 (0)20 8965 2651
F: +44 (0)20 8965 6313
E: [email protected]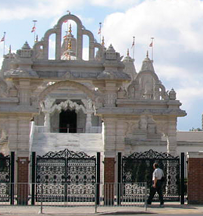 Admission Free
General Opening Times
Mon to Sun: 9.00am to 6.00pm
Allow at least 2 hours for a complete tour
Free public tours
Audio Tour Guides available
Wheelchair access and lifts available
Learn More
The Shrimad Bhagwat Puran is one of Hinduism's most popular, revered and profound holy scriptures.

Composed of more than 18,000 Sanskrit verses over 12 cantos, it covers a myriad of topics, from cosmogony and art to dharma and philosophy, climaxing in a multi-layered exposition of pragat bhakti – devotion unto the manifest form of God. It is also the source of many popular stories about Lord Krishna, one of Lord Vishnu's most loved incarnations.

Photo Credit: Brooklyn Museum Asian Art Collection