Swaminarayan Jayanti
Thursday 30 March 2023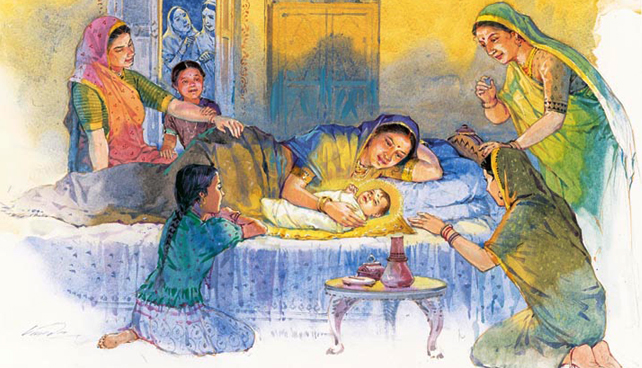 Bhagwan Swaminarayan manifested on earth in 1781 on the Hindu calendrical day of Chaitra sud 9. This year, that auspicious day falls on Thursday 30 March. It will be celebrated at the Mandir with a host of devotional festivities, including a ceremonial offering of food (the 'annakut'), singing, chanting, and an assembly in the evening. This will culminate with the arti at 10.10pm, signifying the precise time Bhagwan Swaminarayan chose to be born to mother Bhaktimata in the small north Indian village of Chhapaiya.
Annakut Darshan
8.00am to 9.00pm
Annakut Thal
11.00am

Evening Arti
7.00pm

Assembly
8.00pm to 10.15pm
Arti Signifying Birth
10.10pm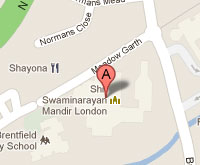 If you are coming to the Mandir by public transport please use the widget below from Transport for London
BAPS Shri Swaminarayan Mandir
Pramukh Swami Road
Neasden, London NW10 8HW, UK
T: +44 (0)20 8965 2651
F: +44 (0)20 8965 6313
E: info@londonmandir.baps.org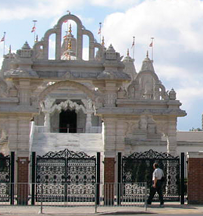 Admission Free
General Opening Times
Mon to Sun: 9.00am to 6.00pm
Allow at least 2 hours for a complete tour
Free public tours
Audio Tour Guides available
Wheelchair access and lifts available
Learn More
Bhagwan Swaminarayan manifested in northern India on 3 April 1781. He came to grant eternal liberation to countless souls, remove misguided religious practices, and dispel misinterpretations that had crept into Hinduism.

Heading a socio-spiritual awakening, he established the Swaminarayan Sampradaya at the age of 20, introducing social reforms, serving the poor and needy, and preaching against superstitions, addictions and violence.

He initiated 3,000 sadhus (ordained monks) and was recognised and worshipped as Bhagwan (God) during his lifetime by countless individuals.

To learn more about his life and work, please click here.
Related