Forthcoming Events
Diwali Celebrations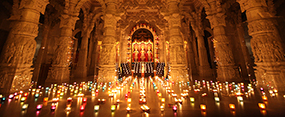 Sunday 27 October 2019
Hindu New Year Celebrations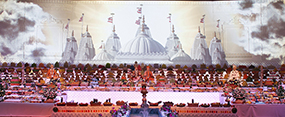 Monday 28 October 2019
Visitor Opinions – Schools (2019)
2018 – 2017 – 2016 – 2015 – 2014 – 2013 – 2012 – 2011 – 2010 – 2009 – 2008 – 2007 – 2006 – 2005
I want to take this opportunity to thank all the staff at BAPS Shri Swaminarayan Mandir for making our group from Aldenham School feel most welcome and for providing us with a programme of activities on our morning visit of 23 May 2019, that were both enjoyable and educationally enriching.
H Washer
Teacher of Philosophy, Religion & Ethics
Aldenham School
Elstree, Hertfordshire
3 June 2019
Thank you so much for having us. It was a great day.
Lucy Wood
Tonbridge Grammar School
Tonbridge, Kent
8 May 2019
Thank you for hosting our visit and for the warm welcome we received from everyone at the Mandir.
It was a very informative day for our students, but, more significantly, it gave our very sheltered children an opportunity to experience something different; to go beyond their everyday experience and preconceptions and to glimpse the world through the eyes of someone else and to see the world from a new perspective.
Jessica Richmond
Forest Farm School
Elsfield, Oxfordshire
30 April 2019
We wanted to pass on what a fantastic day we had last Friday!
Our guide was SO welcoming, knowledgeable and kind. She had an excellent 'teacher presence' with the boys and she was so calm and patient. We are so grateful to her.
We have been now for the last three years and enjoyed it every time. We really liked having a specific guide this time and also the introductory video too.
We are so grateful for your kindness in welcoming us to the temple and we look forward to returning next year.
Zoe Francis
Latin and RS Teacher
Shrewsbury House School
Surbiton, Surrey
29 April 2019
Just to say how much we enjoyed our visit and how helpful the guides were at all times. The children were so pleased to bring the learning they have done over the last term on Hinduism 'to life' so to speak and I will definitely plan to return if I teach this topic again.
Kate Bodle
Head of Literacy and Additional Support, Year 6 Teacher
St Mary's Preparatory School
Henley-on-Thames, Oxfordshire
29 April 2019
I must thank you and your volunteers for another delightful visit to your beautiful place of worship.
As always we had an amazing visit. The girls and teachers were amazed by the splendour of the building and they were overwhelmed by the kindness and attentiveness of the volunteers.
One student of ours (age 9) wrote: "When we were in the prayer hall, I felt so calm and relaxed, because everyone looked so spiritual and like they were actually connecting with the gods. My favourite place was the Abhishek Mandap because it was so beautiful and wonderful. The place I remember most is the grand prayer hall because it was so peaceful and everyone was praying and it made me feel so calm and relaxed."
Another wrote, "The most memorable aspect was the Abhishek Mandap. I felt calm there, because it was quite and peaceful. I enjoyed the exhibition and filling in the sheet of questions and learning new facts that we hadn't learnt about in lessons."
Thank you again for your kind hospitality. We look forward to another visit next year.
Angela George
KS2 Teacher and RE Subject Leader
Surbiton High School
Kingston-upon-Thames, Surrey
4 April 2019
Thank you very much for having us again. It was wonderfully paced and educational and the pupils and teachers enjoyed it a lot.
We would also like to provisionally make a booking for next year around the similar date.
James Ison
Head of Religious Studies and Philosophy
St Mary Magdalene Academy
London
1 April 2019
Once again, please may I convey to you my sincerest and warmest thanks for your kind and wise presentation to my students, and for the opportunity for them to experience the grace, peace and spirituality of the Mandir.
The students were taken aback – as any human being with a soul must be – at the beauty of the Mandir and I am confident that the time in the Haveli with your thoughtful discourse will remain with them and in their consciousness after the return home.
As ever, it was a pleasure to see you and spend time with you.
Dan Wheatley
Senior Lecturer
Department of Management
Director of Undergraduate Programmes
University of Birmingham
29 March 2019
Our school visit to BAPS Shri Swaminarayan Mandir on 05 March 2019 was, as usual, very enjoyable.
Our 7 year old French pupils were delighted for the experience of visiting the temple and the exhibition.
We hope to visit the temple with another group of pupils next year.
Once again, I, on behalf of the other teacher, thank you and your colleagues, for your welcome and enthusiastic explanations. The children will, I am sure, now have a better understanding into the Hindu faith and the Swaminarayan tradition; this is a very important lesson in awareness of different faiths and needs to be taught at a young age.
Evelyne Hagg
French Primary School Ecole Jacques Prévert
Hammersmith, London
20 March 2019
My Year Two children thoroughly enjoyed the trip and have written some excellent recounts. The parents also commented on how beautiful the building was. I know that when I came on my preliminary visit I was awestruck at the beauty of the building. I will be returning with my own children in the near future. Thank you for allowing us to come and visit and for your kindness and hospitality whilst we were there.
Martine Whitaker
Year Two Teacher and English Leader
All Saints Church of England Primary School
Barnet, London
20 March 2019
We had an excellent time at the Mandir and I would like to thank you all for the experience. This is my 3rd time with a school party and each time seems to be better and better. We were treated so warmly and given the opportunity to see so much and experience worship. Our guide was excellent.
Hermione Jackson
Head of Sixth Form
Nunthorpe Academy
Middlesbrough
19 March 2019
I just wanted to say thanks again. We had a great time at the Temple and we all felt extremely welcome and everyone was willing to talk to us and answer our questions. It was such an enlightening experience.
Thanks again. I will be back in the future with more students.
Sylvie Bacquet, FHEA
Senior Lecturer
School of Law
University of Westminster
London
19 March 2019
I am writing to say a huge thank you for accommodating the children from Mitchell Brook at the Mandir. It was a fantastic experience for the children to observe the arti ceremony and see the beautiful murtis. The children came back to school ready to discuss and share the wonderful information they had learned from your speaker. Thank you so much.
I look forward to coming again with a different year group.
Natalie Platt
Year 4 Teacher
Mitchell Brook Primary School
Brent, London
27 February 2019
Thank you very much for another hugely successful visit to the Mandir. The whole day worked really well once again and it was fabulous learning for the children. It will so help them with their coursework after half term. The timings all worked well with the ceremony, time to sketch and reflect in the temple, visit the exhibition centre and have the q and a session and lunch in the lunch room.
Thank you also so much for your most generous gift of the books for our library which is greatly appreciated.
Please pass on my grateful thanks to all your superbly helpful staff.
I look forward to being in touch in the Autumn to book for our February 2020 visit.
Paul Morgan-Jones
Head of Theology, Philosophy and Religion
Holmewood House Prep School
Tunbridge Wells, Kent
24 February 2019
Thank you once again for another superb visit to the Mandir. It was great learning for the children and a truly enriching experience. The pupils all gained so much from it and thank you to all the wonderful staff who helped make the day the great success that it was.
I greatly look forward to future visits.
Paul Morgan-Jones
Head of Theology, Philosophy and Religion
Holmewood House Prep School
Tunbridge Wells, Kent
14 February 2019
Thank you very much for your time and sharing your knowledge with our pupils. They all enjoyed your presentation and were able to share many of the facts when we returned to school.
Some of my pupils have drawn a beautiful picture of the temple and we will send a copy to you as a thank you.
It is a remarkable place of worship and also a monument to dedication, belief, hard work and craftsmanship.
It was a wonderful experience to visit the Mandir.
Rachel Garland
Year 3 Teacher
Leopold Primary School
Harlesden, London
3 February 2019
Thank you for hosting Briscoe Primary and Nursery school at the BAPS Shri Swaminarayan Mandir Temple on Wednesday. We look forward to visiting again with more year groups in future.
The children loved it and were very excited to experience the Arti and seeing Murtis of gods they have learnt about in school. All our members of staff found the experience to be an uplifting and joyful one.
Thank you and your community for being wonderful hosts.
Peter J. Hillman
Key Stage 2 Teacher
Briscoe Primary and Nursery School
Basildon, Essex
1 February 2019
As always, the visit was a delight and we hope to be visiting you annually with our 186 Year 8 boys for many years to come. You are always friendly and welcoming, and amenable to us having a plan and working around it, so long as we work around the Arti ceremony and the closing of the shrine room.
Karen Crussell
Head of Religious Studies
Aylesbury Grammar School
Aylesbury, Buckinghamshire
30 January 2019
As always our children benefited greatly from their visit to the BAPS Shri Swaminarayan Mandir. You are all so welcoming and tolerant of the children. It is especially lovely to see some of our children who have very limited experiences expressing their delight in their surroundings.
Many thanks again. I'm sure we will see you again next year.
Liz Jeary
St Andrew's Junior School
Hatfield Peverel, Chelmsford
30 January 2019
As always, our visit was very enjoyable and the students learned and experienced much about Hinduism. We appreciated very much the kindness, care and attention given to us by the volunteers and staff in the Temple.
Thanks, and look forward to our visit again next year.
Alex Waring
Head of Theology, Philosophy and Religion
Year 8 Form Tutor
Eaton House The Manor
London
8 January 2019